Fauji Fertilizer Company Limited Management Trainees Programs 2019 Apply Online at NTS
Post
Management Trainees
Disciplines
Mechanical, Chemical, Electrical, Electronics & Chemists (Analytical / Inorganic / Industrial Only)
Details
Excellent Academic record coupled with NTS Test "NTS Fertilizer" individual score is mandatory for shortlisting & selection merit. "NTS Fertilizer" test will be conducted in January, February & March 2019. Appearing in all tests is not mandatory, however, interested candidates can avail all chances if they want to improve their score. For registration of test, please visit NTS website. Candidates, who qualify NTS Test, are required to apply online on FFC Career Portal with complete detail/ scores/ CGPA of their academic career (SSC/ HSSC/ Graduation & Test Score). For more details, please visit our Career Portal at the following link and submit your biodata by 30 April 2019.
Note:- NTS GAT (General) or any other test is no more valid for Management Trainees Engineers Program.
Click Here to Apply online at NTS Offical Website.
Last Date to Apply online for Fauji Fertilizer Company Limited Management Trainees Programs 19-December-2018.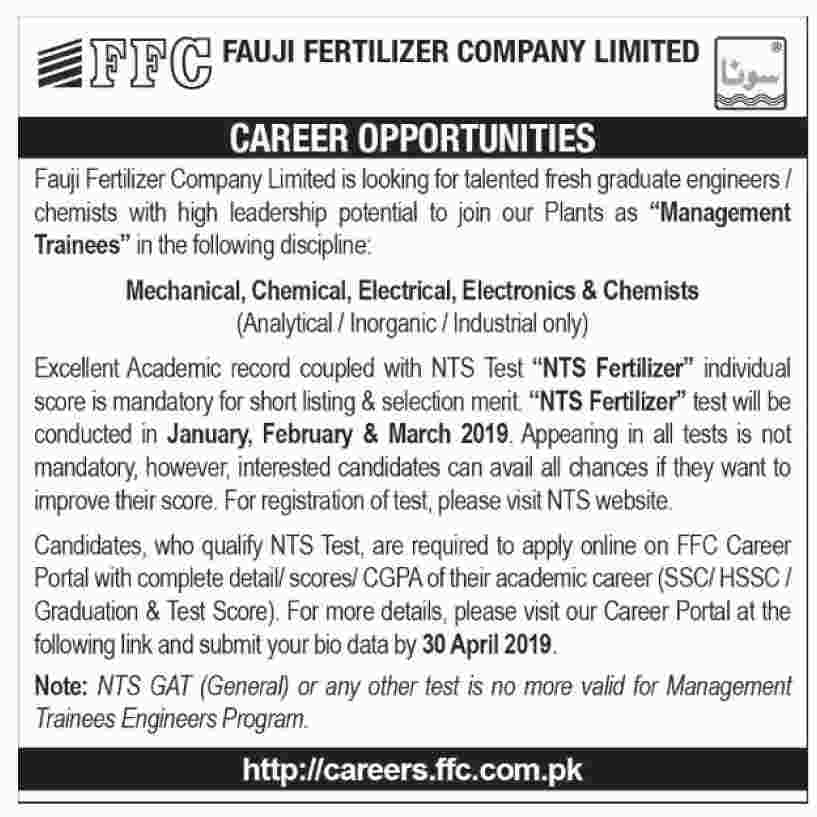 For Jobs in Pakistan Petroleum Limited Click Here
For more Jobs visit Jobs
If you want to receive Job Updates by Email then fill the form at the end of this Post.
Follow Filectory on Facebook, Twitter, Google Plus and Tumblr