Join Pak Army Jobs 2020 as a Regular Commissioned Officer through 146 PMA Long Course, Entry November 2020 Latest Advertisement Online Registration on Pak Army official website www.joinpakarmy.gov.pk.
Eligibility Conditions
i. Intermediate or Equivalent
17-22 years (relaxable for three months in upper and lower age limits)
ii. Graduates (2 years graduation) and serving PN / PAF Personnel
17-23 years (relaxable for three months in upper and lower age limits)
iii. Graduates with 4 years of graduation program (BS / BA (Honors) /BBA / BPA)
iv. Serving Army Soldiers
Gender
Male
Marital Status
Unmarried (Married serving personnel of the Armed Forces over 20 years of age are eligible)
Nationality
Citizens of Pakistan and domicile holders of Azad Kashmir / Gilgit Baltistan. Upon final selection candidates with dual nationality will have to surrender nationalities other than Pakistan.
Physical Standards
Minimum Height: 5 feet 4 inches (162.5 cm)
Weight: As per Body Mass Index
Education Required
i. Minimum 60% marks in FA/FSc and equivalent.
ii. Candidates who secure 60% marks or above in BA/BSc, BA / BSc (Honors) and BBA / BPA with 50% marks in FA/FSc are eligible.
iii. 55% marks for the candidates from specified areas with the domicile of Balochistan, FATA, GB, District Neelum Azad Jammu Kashmir, District Kohistan, Chitral, Dir, Tehsil Bala Kot (Kaghan, Naran) of District Manshera in KPK, Tharparkar and Tehsil Umer Kot in Sindh, District Rajanpur, Area of Cholistan Desert, Drawar Fort, Salamsar, Mojgarh and Dingarh of Punjab. Besides being domicile holders, the candidates must have been actually studying in the same areas.
iv. 50% marks in FA/FSc and equivalent are required for Serving Army Soldiers.
v. Candidates who have passed Part-I of Intermediate Examination with minimum 60% marks and appeared/are appearing in Part II Final Examination can also apply on Hope Certificate by the Head of the institutions.
vi. Candidates not issued with certifications or in possession of duplicate/revised mark sheets of Matric / Intermediate / BA / BSc must get a verification certificate signed by the Secretary / Controller Examination of concerned Board/University.
vi. A level candidates applying in Pakistan with aggregate 60% marks are eligible without seeking equivalence certificates as calculated by IBCC. However, all the candidates who have passed A level and equivalent examination from abroad or have passed from Pakistan with the result less than three Cs are required to submit equivalence certificate issued by IBCC.
Ineligibility Conditions
i. Twice rejected by ISSB.
ii. Twice screened out by ISSB.
iii. Tested within four months gap of the previous appearance in ISSB except waiver granted by the competent authority.
iv. Dismissed / Removed / Debarred from Government Services including Armed Forces.
v. Convicted in a Court of Law for any heinous offense.
vi. Permanently declared UNFIT by Appeal Medical Board.
vii. Declared medically unfit due to Hepatitis B and C.
viii. Withdrawn from any bonded Armed Forces college/institution on disciplinary grounds.
ix. Tempering of submitted documents.
Physical Tests
i. 1.6 Km Run: 8½ Minutes
ii. Push-Ups: 15 Repetitions in 2 Minutes
iii. Sit-Ups: 15 Repetitions in 2 Minutes
iv. Chin-Ups: 3 Repetitions in 2 Minutes
v. Ditch Crossing: 7'4″ x 7'4″ with a Depth of 4′
Written/Intelligence Tests
Written MCQs test will be from English / Mathematics / Pakistan Studies / Islamiat and General Knowledge. Candidates passing the written test will underdo physical tests AS&RCs.
Documents Required at AS&RC
a. Original Certificate / Detailed Marks Sheet of Matric / FSc / Equivalent certificate.
b. CNIC for 18 years and above or Computerized Form B along with Guardian's Computerized National Identity Card (Father or Mother) for candidates less than 18 years of age.
c. One set of attested photocopies of the above-mentioned documents.
d. 3 Passport size colored photos (duly attested on front and back) by Principal/Class-1 Gazetted Officer.
e. Original as well as one photocopy of ISSB "NOT RECOMMENDED" letter is also required for Repeater Candidates.
How to Apply
To Apply Online visit Pakistan Army official website www.joinpakarmy.gov.pk or nearest Army Selection & Recruitment Centers at Rawalpindi, Lahore, Karachi, Peshawar, Quetta, Gilgit, Hyderabad, Multan, DI Khan, Muzaffarabad, Faisalabad, Khuzdar, Pano Aqil.
Online Registration Date
6 April to 8 May 2020.
Preliminary Tests
Due to the prevailing health situation in the country, exam dates will be issued later on the website. Keep visiting join Pak Army official website for the latest information.
The Last Date to Apply Online is 8-May-2020.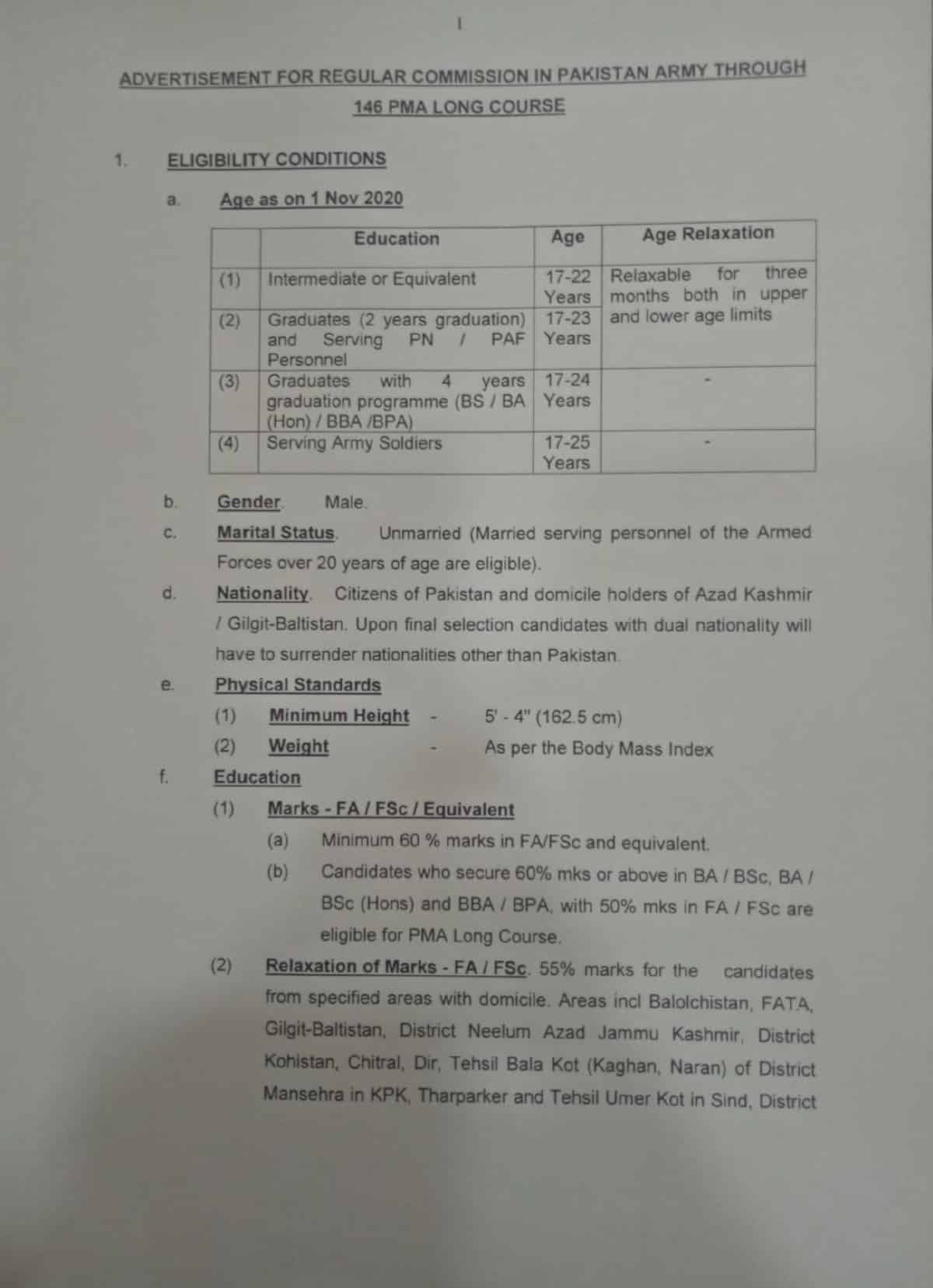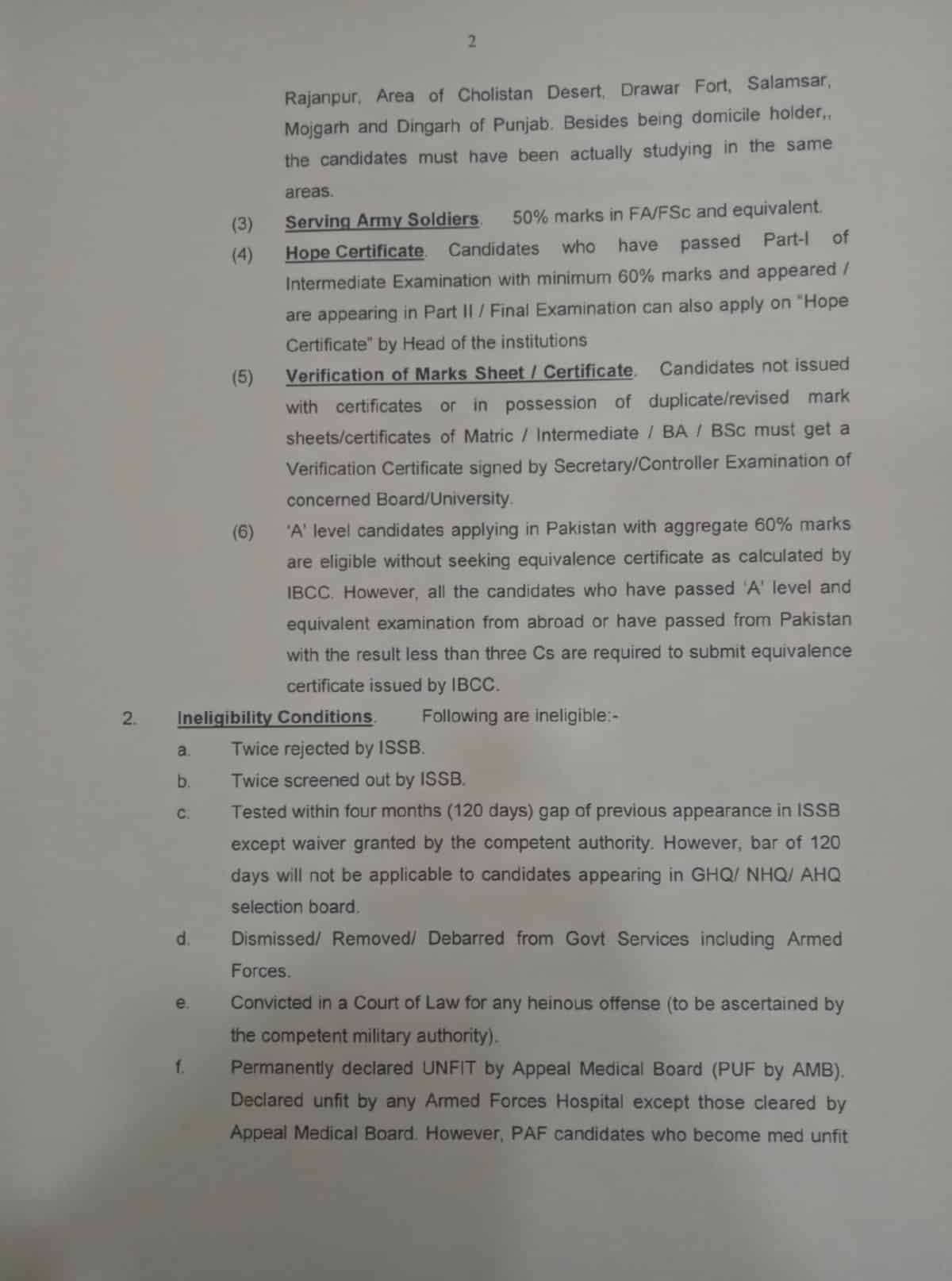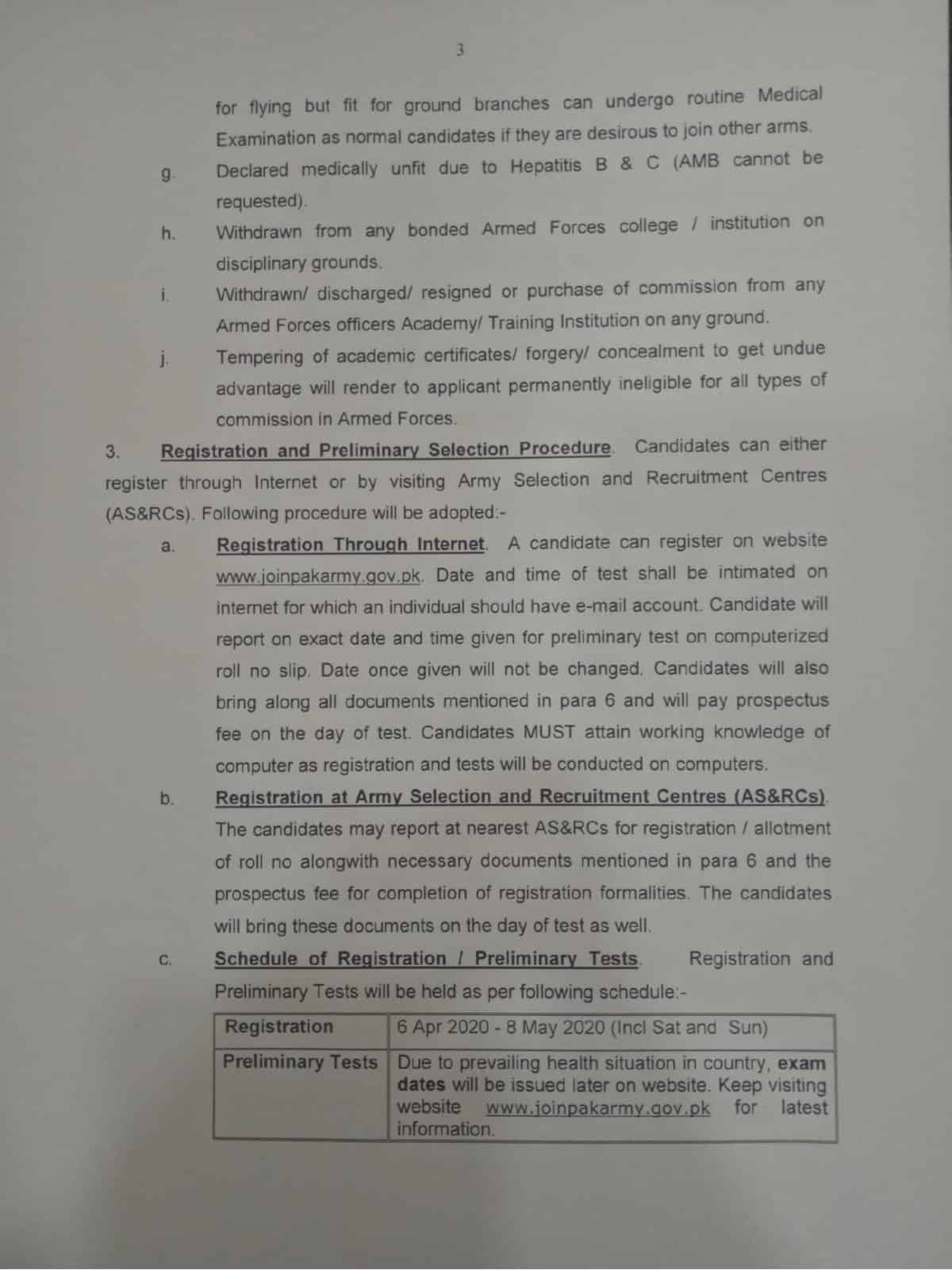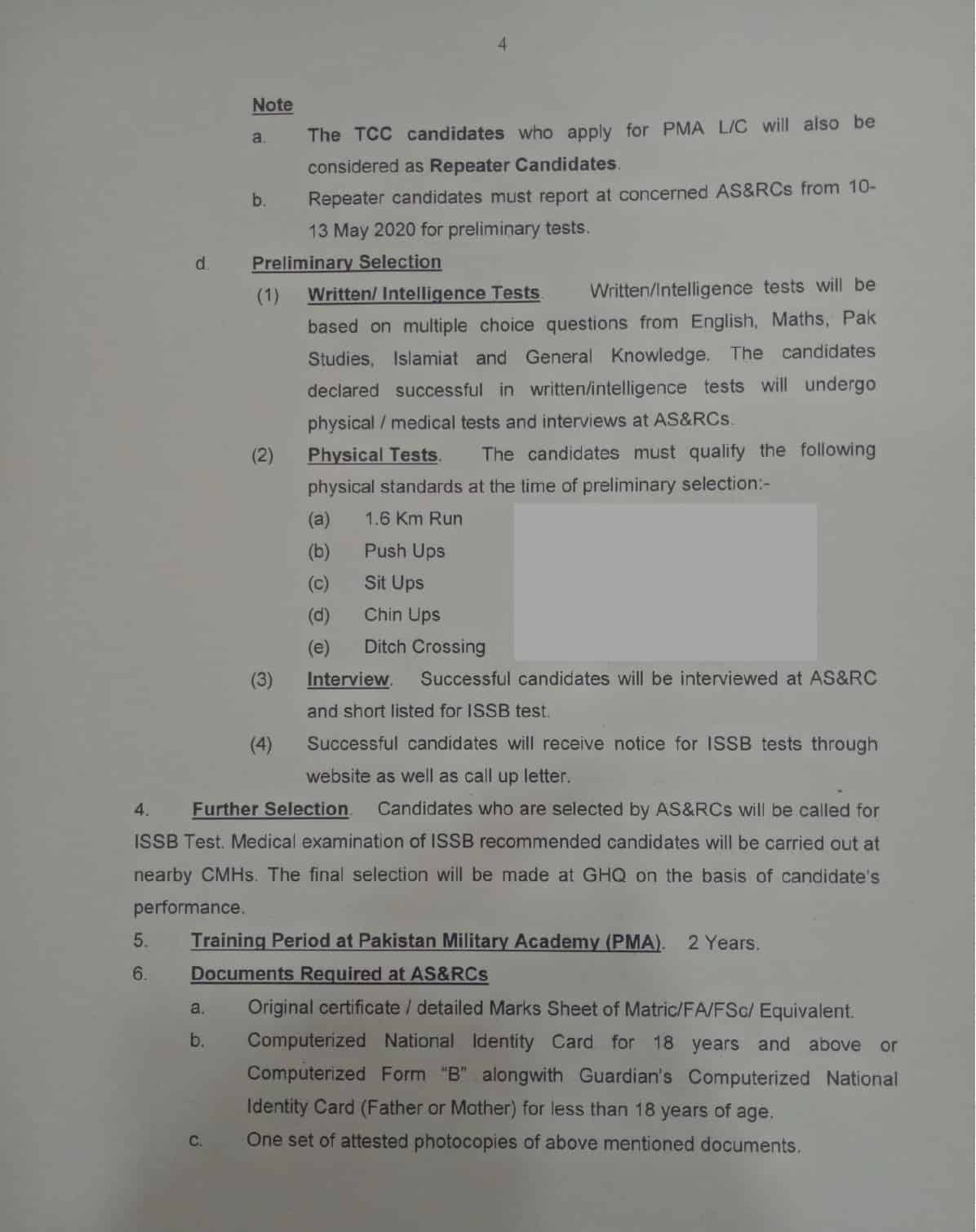 More Jobs
Ministry of Human Rights Jobs April 2020 Application Form Latest
Sui Southern Gas Company Limited SSGC Jobs 2020 Apply Online Latest
National Disaster Management Authority Jobs 2020 www.ndma.gov.pk
Corona Relief Tiger Force Jobs 2020 Pakistan Registration Apply Online
3636 Vacancies in Punjab Primary and Secondary Healthcare Department Jobs 2020
Pakistan Rangers Sindh Jobs 2020 Postponed Latest Notification
State Bank of Pakistan SBP Jobs March 2020 www.sbp.org.pk Latest
Health Department Sindh Government Jobs 2020 – Coronavirus Prevention
Wah Industries Limited Jobs 2020 Application Form Latest Advertisement
PPSC Jobs 2020 Advertisement No 11 Apply Online Latest
Wapda Teaching Jobs 2020 PTS Apply Online Latest www.wapda.gov.pk
Punjab Public Service Commission PPSC Upcoming Jobs 2020 Latest
Ministry of Planning Commission Jobs 2020 Application Form www.pc.gov.pk
Oil and Gas Development Company OGDCL Jobs 2020 Application Form
NAB Jobs March 2020 Application Form Latest Advertisement
Sindh Public Service Commission SPSC Jobs Advertisement No 2 2020
PPSC Jobs 2020 Advertisement No 10 Apply Online Latest
For more Jobs visit Jobs.
Updates
If you want to receive Job Updates by Email then fill the form at the end of this Post or Press the bell Icon and Enable notifications.
WhatsApp Updates
To get Job Alerts via WhatsApp Click Here.
Follow Us
Follow us on Facebook, Twitter, Instagram, Pinterest, and Tumblr.