KRL Institute of Technology Kahuta Job 2019 Principal Required.
Post
Principal (BPS-19/20)
Qualification and Experience
Minimum Master Degree (16 years of education).
Experience
Minimum of 20 years of teaching/administrative experience.
Minimum 05 years experience as Principal/Head of Institute is desirable.
Age Limit
45-55 years
Job Description
i. Smooth and efficient running of the Institute.
ii. Management of all administrative/academic matters.
iii. Management of the financial/budgetary matters.
iv. Control and supervision of employees, organizing their duties and performance appraisal.
v. Syllabus evaluation/update on par with the latest trends and requirements.
vi. Ensure discipline and safety of students, employees, and premises.
Other Skills
i. Excellent oral and written communication skills.
ii. Interpersonal and public relations skills.
iii. Hands on experience of managing finance, etc.
iv. Well versed with office-based computer applications.
v. Human resource management.
Note
i. Candidate having degrees from HEC recognized universities only can apply.
ii. Pay package will be commensurate with qualification and experience (BPS-19/20).
iii. Contract appointment initially for a period of 03 years.
iv. Interested candidates should send their CVs at the address given below.
v. Only shortlisted candidates will be called for interview. No TA/DA is admissible.
Postal Address
KRL Institute of Technology, Nougran-6 KM off Kahuta, Kahuta Kallar Syedan Road District Rawalpindi.
Details
The details of this Job is also available on KRL Institute of Technology Nougran Kahuta website www.kit.edu.pk.
The Last Date to Apply is 8-April-2019.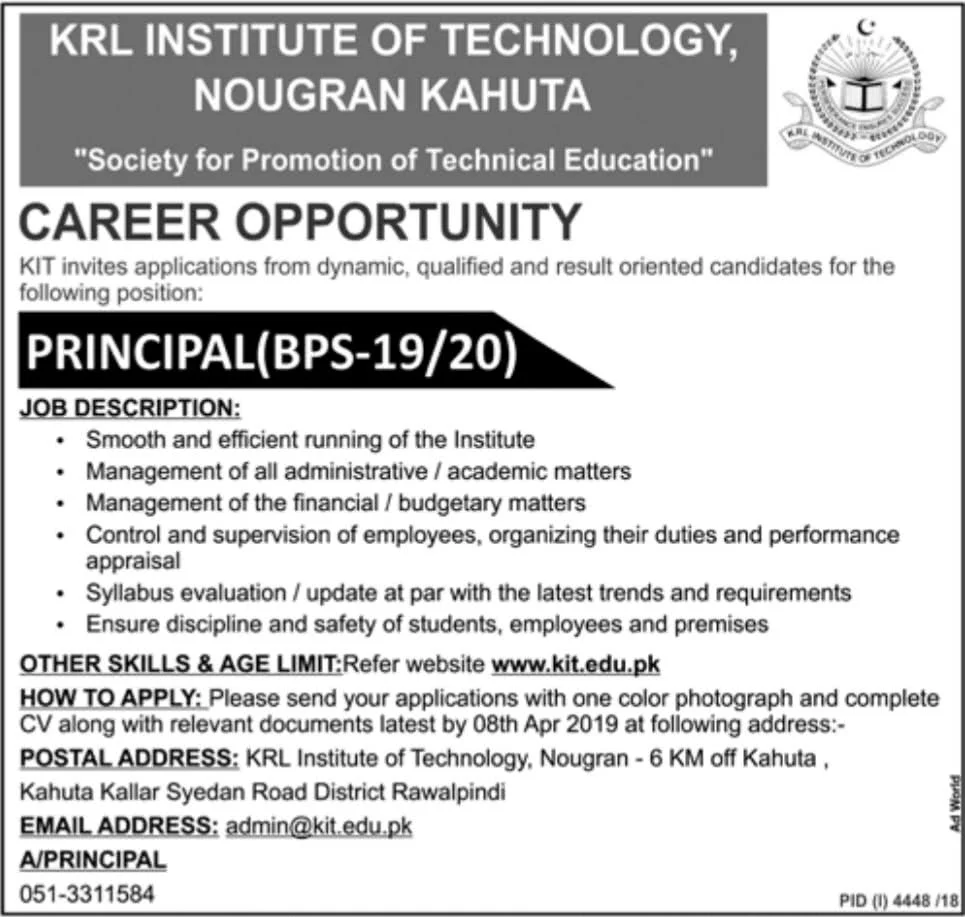 View Pakistan Oilfields Limited POL Jobs 2019 Manager Internal Audit Post.
For more Jobs visit Jobs.
Updates
If you want to receive Job Updates by Email then fill the form at the end of this Post or Press the bell Icon and Enable notifications. To get Job notification through Messenger Click Here.
Follow Filectory on Facebook, Twitter, Pinterest and Tumblr.