Government of Pakistan National Accountability Bureau NAB Jobs 2019 Junior Expert Customs Application Form.
Post
Junior Expert-2 (Customs)
Education
Graduate
Number of Posts
1
Area of Expertise and Responsibilities
Experience in dealing with custom related cases/matters and should be well aware of the fields pertaining to Customs, Sales Tax, Income Tax, Federal Excise Laws. Knowledge of International Trade, Appraisement, Prevention, Customs Intelligence, Imports/Exports, Issuance/Implementation of SROs and working of shipping lines and clearing agents.
Experience
10 years relevant experience.
Maximum Age
65 years
Address to send Application Form
Additional Director (Admin) NAB Karachi, PRCS Building, 197/5, Doctor Daud Potta Road, Karachi Cantonment.
Application Form
The Application Form can be downloaded from Downloads Page. If you download in Word Format then it can be edited as per requirement.
The Last Date to Apply is 13-May-2019.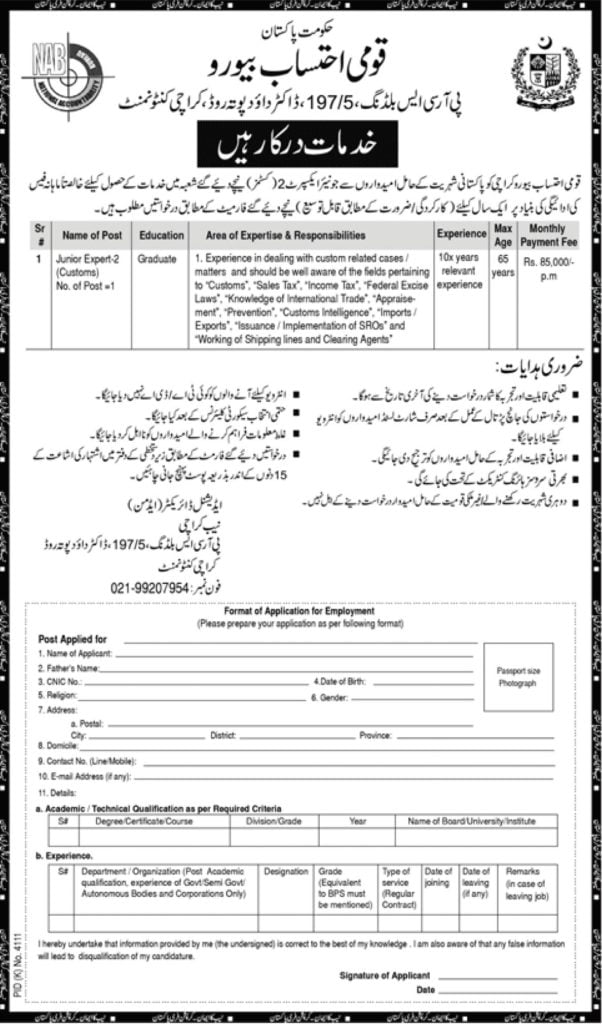 View Government of Pakistan Ministry of Climate Change MOCC Jobs 2019.
For more Jobs visit Jobs.
Updates
If you want to receive Job Updates by Email then fill the form at the end of this Post or Press the bell Icon and Enable notifications. To get Job notification through Messenger Click Here.
Follow Filectory on Facebook, Twitter, Pinterest and Tumblr.
Get Job Updates via Email
Join 16.5K other subscribers