National University of Sciences and Technology NUST University Islamabad Teaching Jobs April 2020 hr.nust.edu.pk Apply Online Latest Advertisement.
University
National University of Sciences and Technology NUST Islamabad
Official Website
www.nust.edu.pk
Posts
Professors
Associate Professor
Assistant Professor
Lecturer (Business Analytics, Tourism and Hospitality Management)
Qualification Required
Ph.D., Masters Degree
Areas of Specialization for Professors, Associate Professor and Assistant Professor
1. Engineering Disciplines
Mechanical Engineering
Manufacturing Engineering
Mechatronics Engineering
Robotics and Artificial Intelligence
Civil Engineering
Structural Engineering
Geo Informatics Engineering
Remote Sensing and GIS
Machine Learning
Autonomous Systems and Robotics
Innovative Technologies for Learning (Game Design, Universal Design for Learning, Human-Computer Interaction, Learning Interfaces)
Information Technology (Cloud Computing, Distributed Computing, Information Retrieval, Data Mining)
Computer Science/Data Science (Compilers, Theory of Automata and Formal Methods languages, Natural language Processing, Operating System, Information Visualization, Computer Graphics, Advanced Programming, Mobile Application, Web Engineering)
Software Engineering (Software Construction, Software Project Management, Software Quality Engineering, Software Requirements Engineering, Software Re-engineering, Business Process Engineering, Operational Research, Formal Methods)
Information Security (Network Security, Computer Forensics, Cryptography, Information Security Management, Cloud Computing Security, Malware Analysis and Reverse Engineering, Cyber Warfare, BlockChain Technologies)
2. Business Sciences Discipline
Physical Chemistry
Inorganic Chemistry
Mathematics
3. Management Sciences and Business Disciplines
Business Analytics
Strategy
Tourism and Hospitality Management
Innovation and Entrepreneurship
Marketing
International Business
Business Statistics
Computational Finance
Taxation
Accounting
Public Finance
Supply Chain Management
4. Social Sciences and Humanities Disciplines
Pakistan Studies
Professional Ethics
English
Note
Candidates serving in Government departments and Armed Forces should apply through their respective departments/organizations.
How to Apply Online for NUST Teaching Jobs 2020
To Apply Online visit NUST official website https://hr.nust.edu.pk.
The Last Date to Apply Online is 30-April-2020.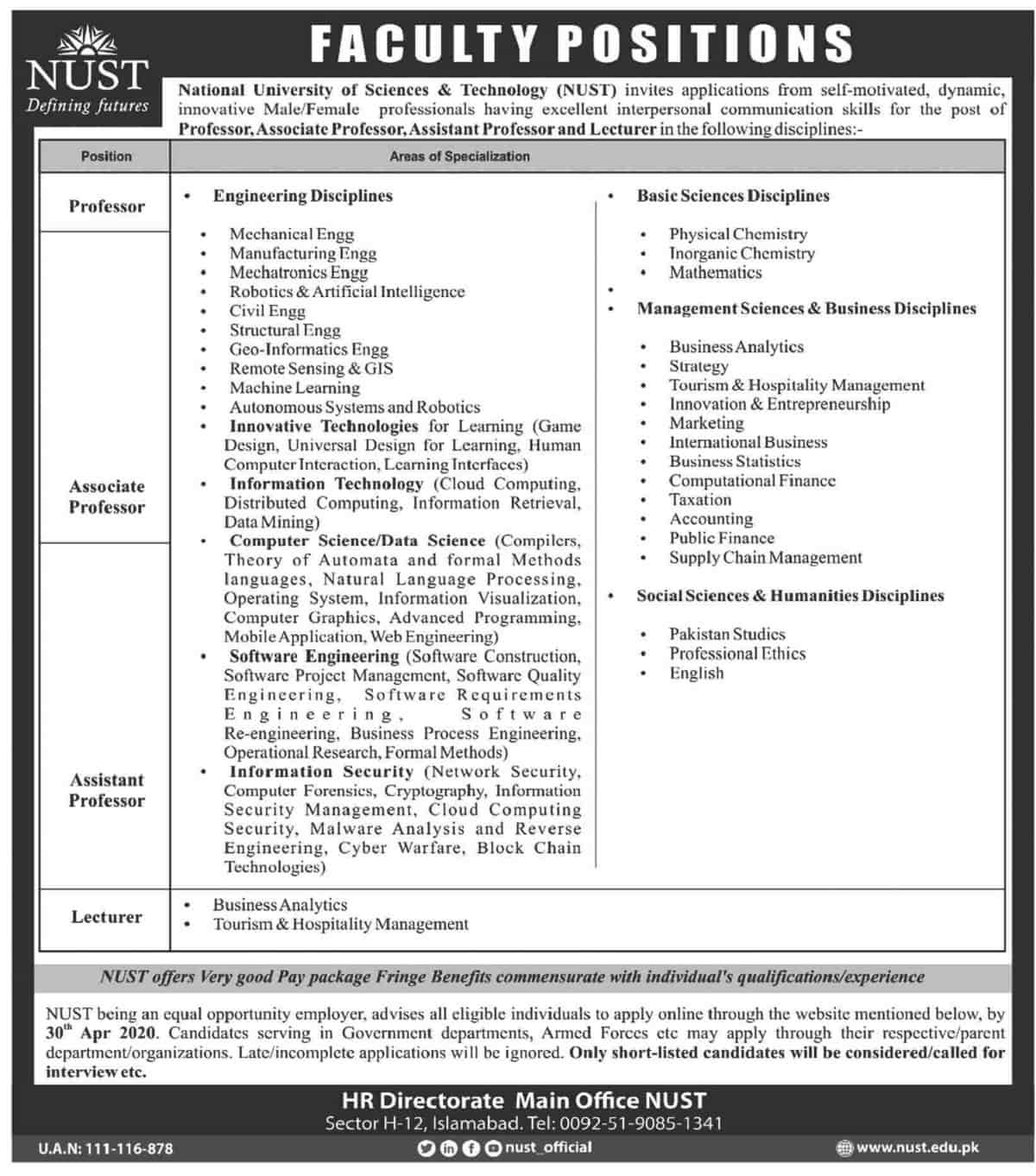 More Jobs
Federal Government Employees Housing Authority FGEHA Jobs April 2020
NUST University Islamabad Jobs 2020 hr.nust.edu.pk Apply Online Latest
Pakistan Army EME College Rawalpindi Jobs April 2020 Application Form
Pakistan Real Estate Company PRIMACO Jobs 2020 Application Form
Sindh Government Directorate of TB Control Jobs 2020 Application Form
State Bank of Pakistan SBP Jobs April 2020 www.sbp.org.pk Latest
NAB Jobs March 2020 Application Form Latest Advertisement
Population Welfare Department Punjab Jobs April 2020 SPU NTS Latest
Federation of Employees Cooperative Housing Society FECHS Jobs April 2020
Federal Public Service Commission FPSC Jobs April 2020 Apply Online PSDP Project
Zarai Taraqiati Bank Limited ZTBL Jobs April 2020 www.ztbl.com.pk Apply Online
Pakistan Ordnance Factories POF Jobs 2020 www.pof.gov.pk Apply Online
Sidat Hyder Morshed Associates Pvt Ltd Jobs April 2020 Apply Online
Join Pak Army Jobs 2020 as Commissioned Officer 146 PMA Long Course
Pakistan Rangers Sindh Jobs 2020 Postponed Latest Notification
State Bank of Pakistan SBP Jobs March 2020 www.sbp.org.pk Latest
For more Jobs visit Jobs.
Updates
If you want to receive Job Updates by Email then fill the form at the end of this Post or Press the bell Icon and Enable notifications.
WhatsApp Updates
To get Job Alerts via WhatsApp Click Here.
Follow Us
Follow us on Facebook, Twitter, Instagram, Pinterest, and Youtube.