PO Box 4419 Karachi Shipyard and Engineering Works Jobs 2019 Apply Online.
Karachi Shipyard and Engineering Works offer on job training/internship opportunities to bright and fresh graduates having a first-class academic career in the following disciplines:
i. Production/Design/Maintenance
BE/BS/B.Tech (Pass) Electrical, Electronics, Industrial, Mechanical and Mechatronics.
ii. Finance Sales and Marketing/HRD
BBA/MBA in Finance, Sales Marketing, HR, Accounts, Supply Chain.
iii. Legal
Master/Graduate Labor/Corporate Law
iv. Production/Design Maintenance
DAE (03 Years) diploma
v. See List of Disciplines
Electrical, Mechanical, Electronics Mechanical (Specialized in Welding). Refrigeration and Air Conditioning, Computer Information Technology and Auto Diesel.
This program offers excellent training opportunities and hands-on experience to the qualified youth besides sharpening their skill which will be helpful for their future employment.
The Selected candidates will undergo training for a period of Six Months and upon completion of the training, KS&EW may offer Contract Jobs to suitable candidates.
Monthly Stipend Amount during internship Rs. 15,000 for BE/BS and for DAE Internees Rs 6000.
Subsidized Food Medical facility within the yard shall be extended to all internees.
Eligibility
i. Candidates must have completed 16 years of education or any equivalent degree from any HEC recognized University or DAE be recognized from any Technical Board.
ii. Candidates must have 2.5 CGPA in their last degree & DAE Pass Diploma "A" Grade.
iii. Maximum age limit for all candidates 25 years. The cutoff date for age limit in June-2019.
iv. Candidate must be a citizen of Pakistan.
Ineligibility for PO Box 4419 Karachi Shipyard and Engineering Works Internship
Employees (full time/part time) of any public or private sector.
Students (full time/part time) of any public or private educational Institutes.
How to Apply for PO Box 4419 Karachi Shipyard and Engineering Works Jobs 2019
Interested candidates are required to send their CV's along with a passport size photograph and photocopies of CNIC, relevant certificates, marks Sheets and testimonials to the Principal (STS) Karachi Shipyard & Engineering Works Limited, P.O Box 4419, West Wharf Karachi – 2.
Preferably send all above online at www.karachishipyard.com.pk.
The Last Date to Apply Online is 17-March-2019.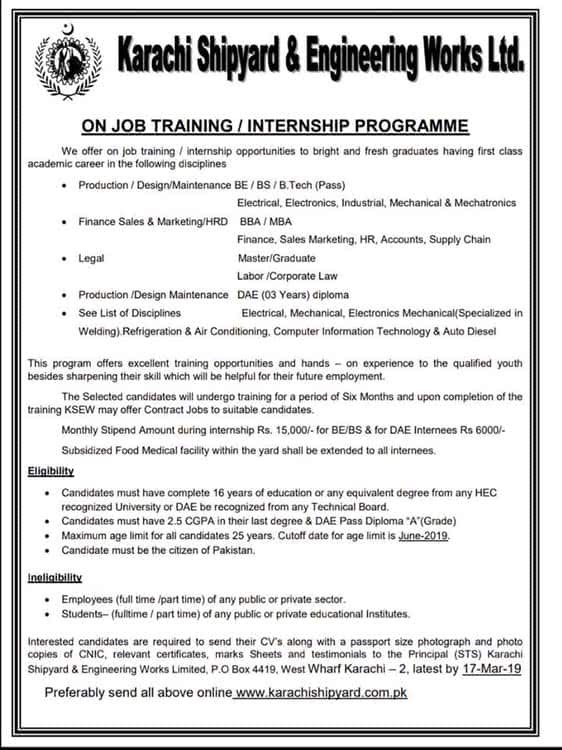 View PPSC Jobs Advertisement No 9 2019.
For more Jobs visit Jobs.
Updates
If you want to receive Job Updates by Email then fill the form at the end of this Post or Press the bell Icon and Enable notifications. To get Job notification through Messenger Click Here.
Follow Filectory on Facebook, Twitter, Google Plus, Pinterest and Tumblr.