Punjab Public Service Commission PPSC Jobs Today Advertisement No 14 2019 Apply Online.
Department
Services and General Administration Department
Case
16-RC/2019
Post
Provincial Management Service (BS-17)
Number of Posts
18
Quota
Ministerial Quota
Qualification and Experience
By selection on merit from amongst the civil servants holding respective posts on regular basis in BS-05 to BS-16 with Master's Degree or Bachelor's Degree (4 years) or LL.B from a recognized University, serving under the Government and having the following experience:-
a) For Officials in (BS-11 to BS-16) = 05 years;
and
b) For Officials in (BS-05 to BS-10) = 08 years
Remaining Conditions
The candidates must fulfill all other preconditions for the examination as given in this Advertisement and Instruction to the Candidates. The candidates will produce the original certificates at the time of interview.
Subjects and Syllabus
General Ability Paper containing questions relating to General Knowledge, Pakistan Affairs, English Grammar and Islamic Studies (Objective)=100 Marks
English Essay=25
Urdu Essay=25
Psychological Assessment and Viva Voce=200
Note
Non-Muslims candidates have the option either to attempt MCQs on Islamic Studies or the same number of questions in a separate section titled "Ethics".
Important Notes
i. A candidate must obtain 40% marks in each subject and 50% marks in the aggregate to qualify for an interview: 0.50 or more marks will be rounded off. Thereafter a candidate must also secure 50% in the interview to be finally successful.
ii. Negative Marking will be done and 0.25 marks will be deducted for each wrong answer in the MCQ type paper.
iii. Change in the priority/selection of examination centers shall not be allowed.
Apply Online for PPSC Jobs Today Advertisement No 14 2019
To Apply Online visit Punjab Public Service Commission PPSC website www.ppsc.gop.pk.
The Last Date to Apply Online for Punjab Public Service Commission Jobs is 2-May-2019.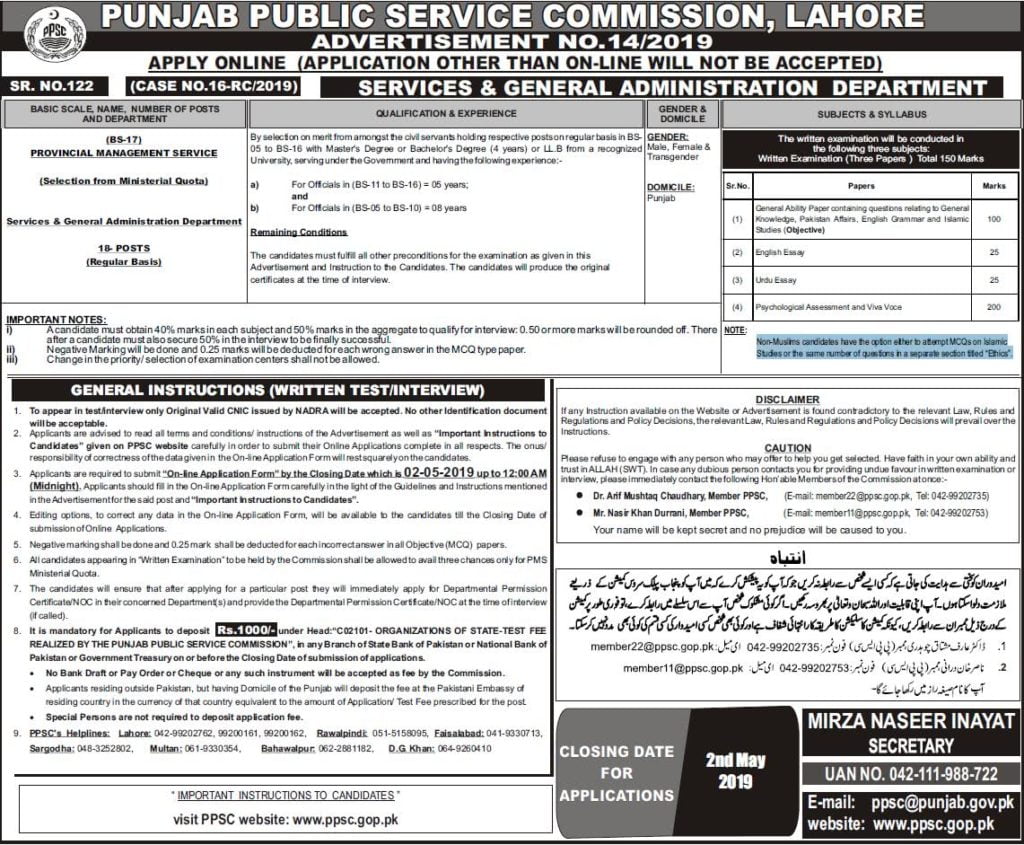 View PPSC Jobs Advertisement No 13 2019.
View FPSC Jobs Advertisement No 4 2019.
View Pakistan Railway Jobs 2019 Directorate of Legal Affairs.
For more Jobs visit Jobs.
Updates
If you want to receive Job Updates by Email then fill the form at the end of this Post or Press the bell Icon and Enable notifications. To get Job notification through Messenger Click Here.
Follow Filectory on Facebook, Twitter, Pinterest and Tumblr.
Get Job Updates via Email
Join 16.5K other subscribers