Punjab Public Service Commission PPSC Upcoming Jobs 2020 Latest. Following Punjab Government Jobs will soon be announced in leading Newspapers of Pakistan in 2020.
Post Name
Medical Technologist (Nuclear Medicine)
Medical Lab Technologist
Service Centre Official
Junior Clerk
Computer Operator
Cashier
Drug Inspector
Additional Principal VO (Sro (Nutrition, Breeding & Incubation, Disease, Marketing & Processing)
Personal / Private Secretary
Personal Staff Officer
Administrator Parks
Deputy Director Marketing
Assistant Director Marketing
Assistant Director Horticulture
Deputy Director Engineering
Deputy Director Admin
Assistant Director Town Planning
Assistant
Senior Registrar Neonatology
Associate Professor Paediatrics
Senior Scale Stenographer
Senior Registrar Dermatology
Assistant Architect
Senior Registrar Orthopaedic Surgery
Senior Registrar Paediatric Neurology
Associate Professor Electrophysiology
Senior Veterinary Officer
Inspector Legal
Public Relation Officer
Provincial Management Service PMS – 2020
Educator
Junior Special Education Teacher (Mentally Retarded)
Junior Special Education Teacher (Deaf)
Senior Special Education Teacher (Blind Field)
Junior Special Education Teacher (Physically Handicapped Field)
Lecturer Audiology
Senior Special Education Teacher (Deaf Field)
Lecturer Optometry
Stenographer
Junior Computer Operator
Professor Pathology
Assistant Professor Radiotherapy
Assistant Professor Paediatric Anesthesia
Assistant Professor Dermatology
Research Officer
Assistant Director (Admin)
Assistant Director (Estate Management)
Assistant Director (Finance)
Assistant Director Engineering
Inspector Of Boilers
Veterinary Officer/Livestock Production Officer/Instructor (Training & Coordination)
Assistant Executive Engineer
Professor Paediatric Urology
Motor Vehicle Examiner
Subject Specialist Physics – Female
Senior Subject Specialist (Mathematics)
Data Processing Officer
Consultant Anaesthetist
Consultant Dermatologist
Consultant Surgeon
Assistant Professor Urology
Associate Professor Anaesthesia
Professor Forensic Medicine
Senior Registrar Paediatric Anaesthesia
Assistant Professor Orthopaedic
Senior Registrar Surgery
Assistant Professor Paediatarics
Specialized Health Care & Medical Education
Associate Professor Forensic Medicine
Audit Officer
Accounts Officer
Assistant Director Fisheries
Assistant Entomologist (Pest Control)
Assistant Director
Department
Punjab Land Records Authority
Anti Corruption Establishment
Local Government & Community Development
Board of Revenue
Finance
Punjab Housing & Town Planning Agency, Lahore
Lahore Development Authority
Punjab Police
Women Development
Special Education Department
Board Of Revenue
Services & General Administration
Housing Urban Development & Public Health Engineering Department
Industries
Livestock & Dairy Development
Irrigation
Transport
Mines & Minerals
Planning & Development
Primary & Secondary Health Care
Specialized Health Care & Medical Education
Peesi, Labour & Human Resource
Forestry Wild Life And Fisheries
Forestry Wildlife & Fisheries Department
Punjab Overseas Pakistanis Commission / S&GAD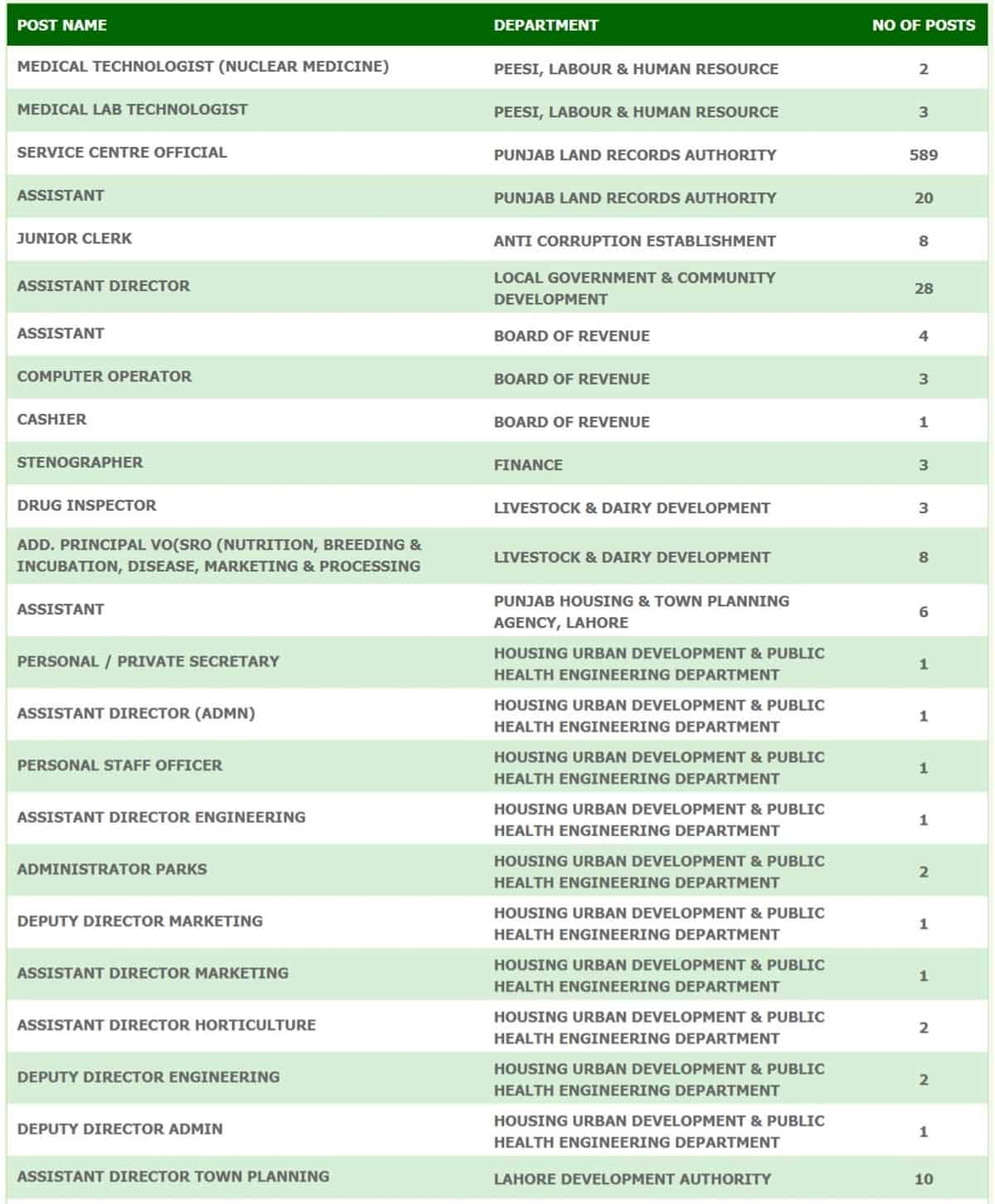 Punjab Public Service Commission PPSC Upcoming Jobs 2020 Latest 1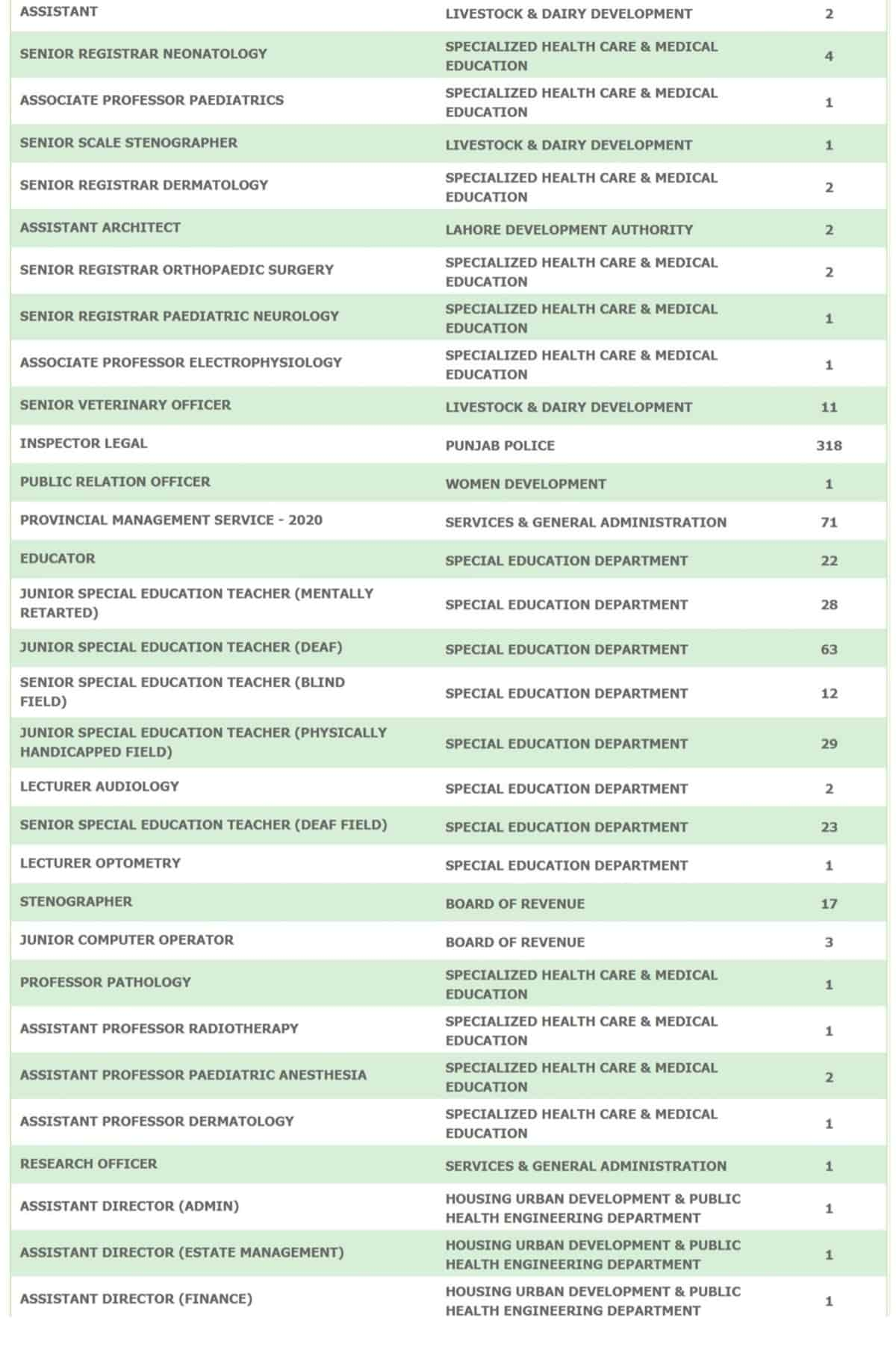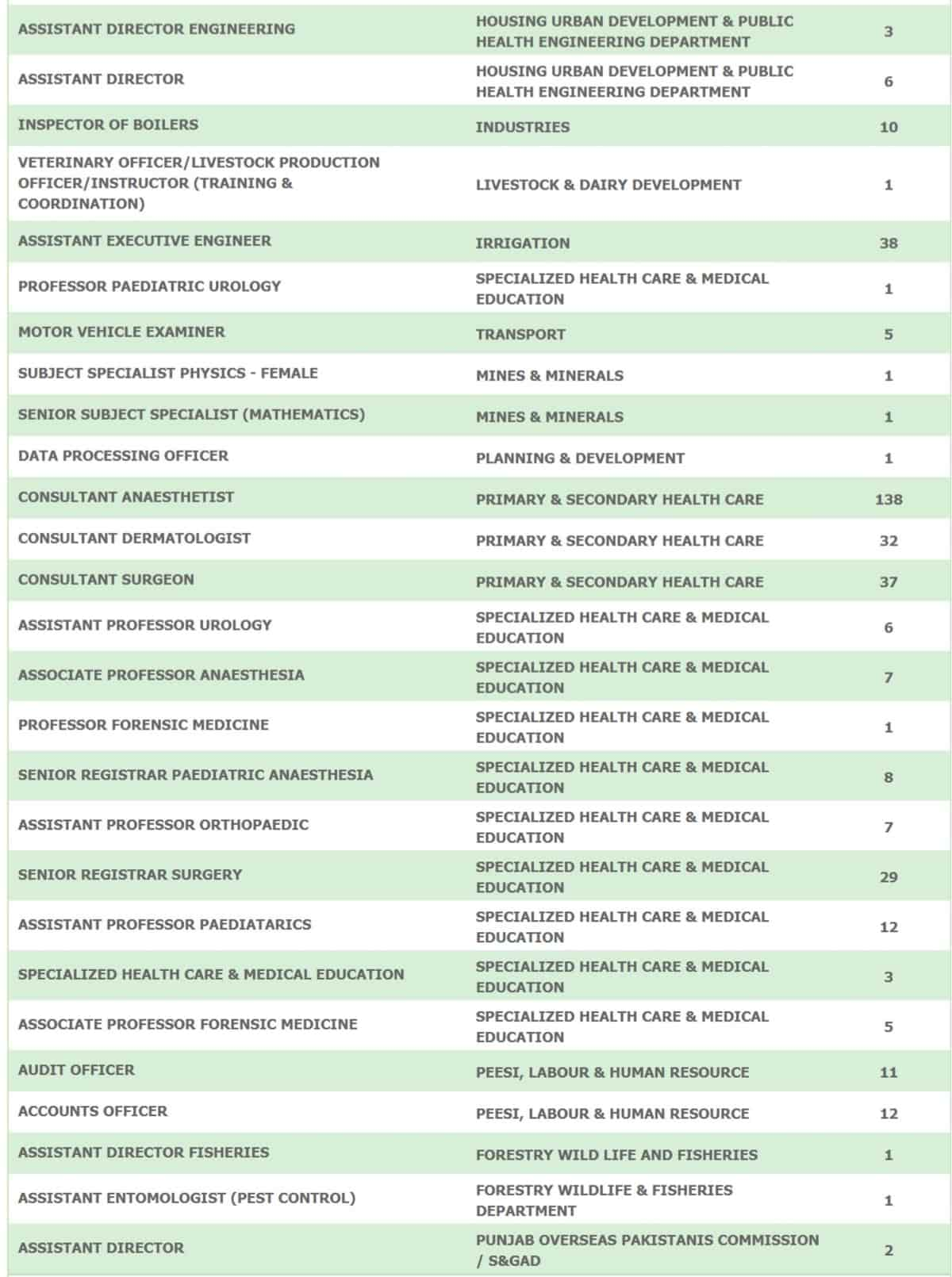 Source
Punjab Public Service Commission PPSC website www.ppsc.gop.pk.
More Jobs
Ministry of Planning Commission Jobs 2020 Application Form www.pc.gov.pk
Oil and Gas Development Company OGDCL Jobs 2020 Application Form
NADRA Jobs 2020 Supervisor & Junior Executive Walk in Test / Interview
NAB Jobs March 2020 Application Form Latest Advertisement
Military Engineering Services MES Jobs March 2020 Application Form
PPSC Zilladar Jobs 2020 Punjab Irrigation Department Advertisement
Nayatel Jobs 2020 Associate Engineer Latest Advertisement
Sindh Public Service Commission SPSC Jobs Advertisement No 2 2020
PPSC Jobs 2020 Advertisement No 10 Apply Online Latest
PASSCO Jobs 2020 Apply Online PTS Latest Advertisement
Bahria Town Karachi Jobs March 2020 in SNG Plant Apply Online
PPSC Jobs March 2020 Advertisement No 9 Apply Online Latest
State Bank of Pakistan Jobs 2020 OG2 Officers Training Scheme SBOTS
Federal Board of Revenue FBR Jobs 2020 Appraising Valuation Officer
Islamabad Capital Territory ICT Police Jobs 2020 Application Form
FPSC Jobs 2020 Advertisement 3 Apply Online www.fpsc.gov.pk
Pakistan Rangers Sindh Jobs 2020 Latest Advertisement
Join Pakistan Army Jobs 2020 as Officer 32 Technical Cadet Course TCC
For more Jobs visit Jobs.
Updates
If you want to receive Job Updates by Email then fill the form at the end of this Post or Press the bell Icon and Enable notifications.
WhatsApp Updates
To get Job Alerts via WhatsApp Click Here.
Follow Us
Follow us on Facebook, Twitter, Instagram, Pinterest, and Tumblr.
Get Job Updates via Email
Join 16.5K other subscribers