State Bank of Pakistan SBP Jobs 2019 Officers Training Scheme SBOTS OG 2 Batch 23.
State Bank of Pakistan, the Central Bank, regulates the monetary and credit system of Pakistan and fosters its growth in the best national interest with a view to securing monetary stability and optimum utilization of country's productive resources.
To further strengthen institutional capacity and as part of Strategic Plan to strengthen HR base, SBP invites applications from talented, self-motivated, result oriented and energetic candidates for "Assistant Directors (OG-2)" under State Bank Officers Training Scheme (SBOTS) – 23rd Batch. The positions are permanently based at Karachi. SBP is an equal opportunity employer and provides excellent opportunities for candidates desirous of building a long-term career in a challenging environment at SBP.
Qualification
Masters or Bachelors Degree with 16 years of education with at least 60% marks or 2.5 CGPA out of 4.0 or 3.5 CGPA out of 5.0 from HEC recognized Pakistani institutions in Business Administration, Public Administration, Economics, Commerce, Finance, Accounting, Information Systems and Technology, Mathematics, Human Resources, and Agriculture. Foreign degree holders are required to submit the Equivalence Certificate issued by HEC along with the application. Candidates awaiting final results are not eligible to apply.
Age
Maximum 26 years as on deadline of applications. Age limit shall be relaxed by 03 years for candidates from FATA, Northern Areas, Gilgit Baltistan, Balochistan, and Azad Kashmir; and by 05 years for employees of SBP and its subsidiaries subject to fulfilling all other eligibility requirements.
Selection Procedure
The candidates shortlisted on the basis of written test and meeting other eligibility criteria will be invited for further selection process along with attested copies of educational/professional documents, Equivalence Certificate from HEC (in case of foreign qualification), original (test) Deposit Slip, domicile and CNIC. Please be informed that if at any stage of selection it is proved that you do not meet the required eligibility criteria as per advertisement, your candidature for the position would be withdrawn/canceled immediately.
Successful candidates will be selected in order of merit subject to observance of Provincial/Regional quota provisions as prescribed by Government of Pakistan.
Pre-Induction
After completion of all pre-induction formalities including medical and psychological examinations, the selected candidates shall be required to undergo "Applied Focused Theoretical Training" (residential) at National Institute of Banking and Finance (NIBAF), Islamabad.
Compensation Package for State Bank of Pakistan SBP Jobs 2019 SBOTS OG 2 Batch 23
Monetized salary of Rs: 82,000/- per month and other perks and benefits in Salary Scale of OG-2 as per Bank's rules.
The medical facility as per Bank's rules.
Staff Loans and other benefits and allowances as admissible under New Compensation and Benefits Structure as per Bank's rules.
Apply Online
To Apply Online visit SBP website www.sbp.org.pk.
The last date to Apply Online is 11-March-2019.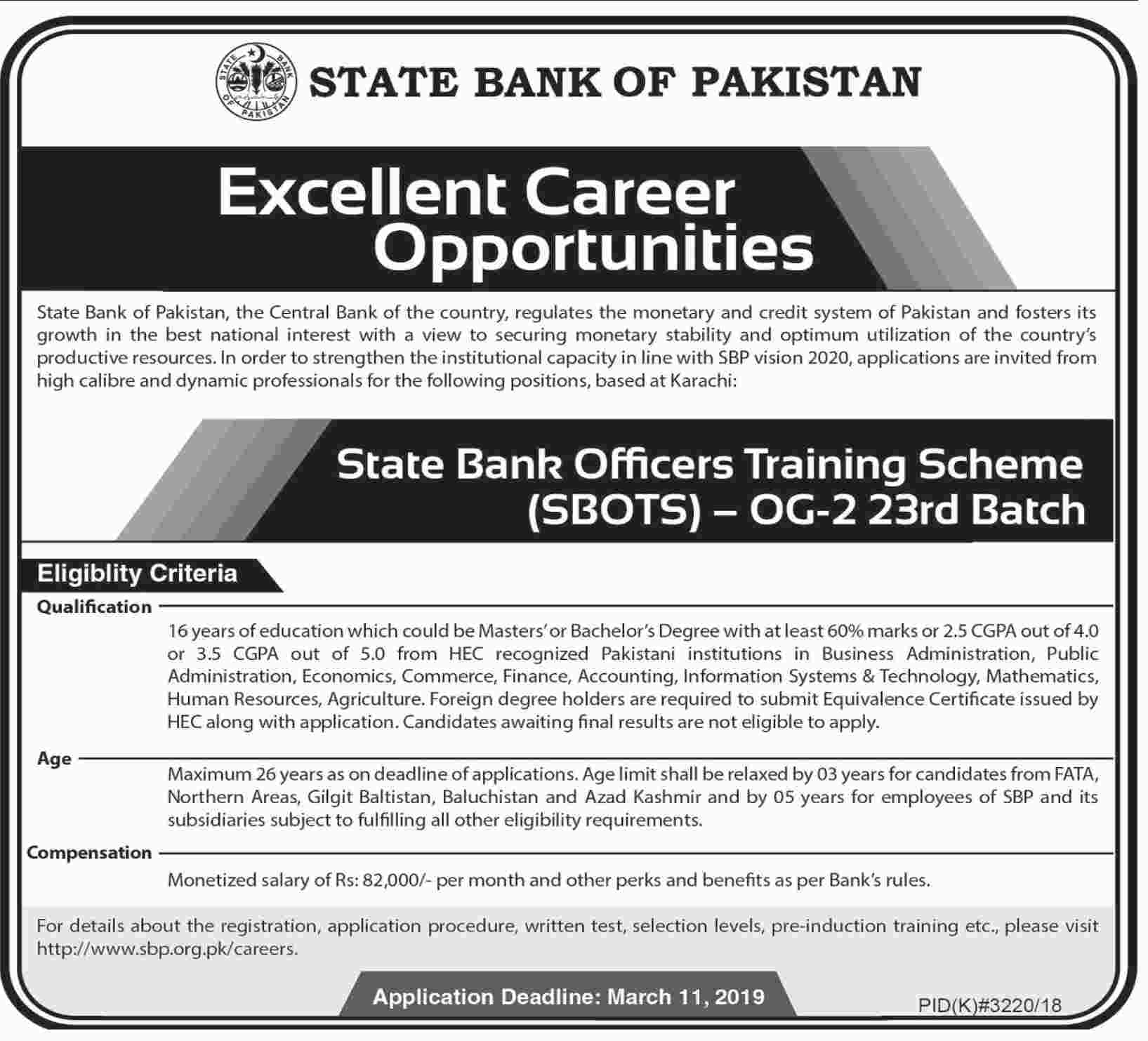 View Latest Jobs in Public Sector Organization OTS 2019.
For more Jobs visit Jobs.
Updates
If you want to receive Job Updates by Email then fill the form at the end of this Post or Press the bell Icon and Enable notifications. To get Job notification through Messenger Click Here.
Follow Filectory on Facebook, Twitter, Google Plus, Pinterest and Tumblr.