Water and Power Development Authority Wapda Teaching Jobs 2020 PTS Apply Online Latest www.wapda.gov.pk Advertisement.
Institutes
Tarbela, Ghazi Brotha, Chashma, Mangla, DI Khan, Hyderabad, and Hub Dam Karachi Educational Institutes.
Job Type
Permanent
Post
Lecturer (History)
Lecturer (Psychology)
Lecturer (Urdu)
Lecturer (Computer Science/IT)
Lecturer (Chemistry)
Lecturer (Physics)
Lecturer (Statistics)
Subject Specialist Islamiat
Subject Specialist Pakistan Studies
Trained Graduate Teacher (English)
Trained Graduate Teacher (Science) Physics, Maths
Trained Graduate Teacher (Science) Chemistry, Biology
Senior Physical Training Instructor
Librarian
Drawing Master (Power Wing)
Laboratory Assistant
Qualification/Experience
Second Class Master's Degree or equivalent in the relevant subject.
MA/MSc in the relevant subject and BEd both in the second division having 5 years experience of teaching in a high school.
BA (English Literature) Second Division / MA English + BEd (second division) / MA Education (second division)
BSc (Double Maths, Physics) second division + BEd (second division) / MA Education (second division)
BSc (Chemistry, Biology) second division + BEd (second division) / MA Education (second division)
BA/BSc with Senior Diploma in Physical Education
Graduation with Diploma in Library Science.
Degree in Library Science.
BA/BSc with Diploma in Library Science.
FA/FSc (CT/SV) with 1-year training in Industrial Arts/Drawing
Matric with Science
Apply Online
Online Application Form is available at PTS website www.pts.org.pk.
Important Details
i. The test will be conducted by PTS and Interview by Wapda Selection Board.
ii. The candidates will pay Rs 170 to PTS through Easypaisa mobile account, Easypaisa shop or Visa/Master Card.
iii. No need to send Hardcopy of the application form to PTS.
The Last Date to Apply is 6-April-2020.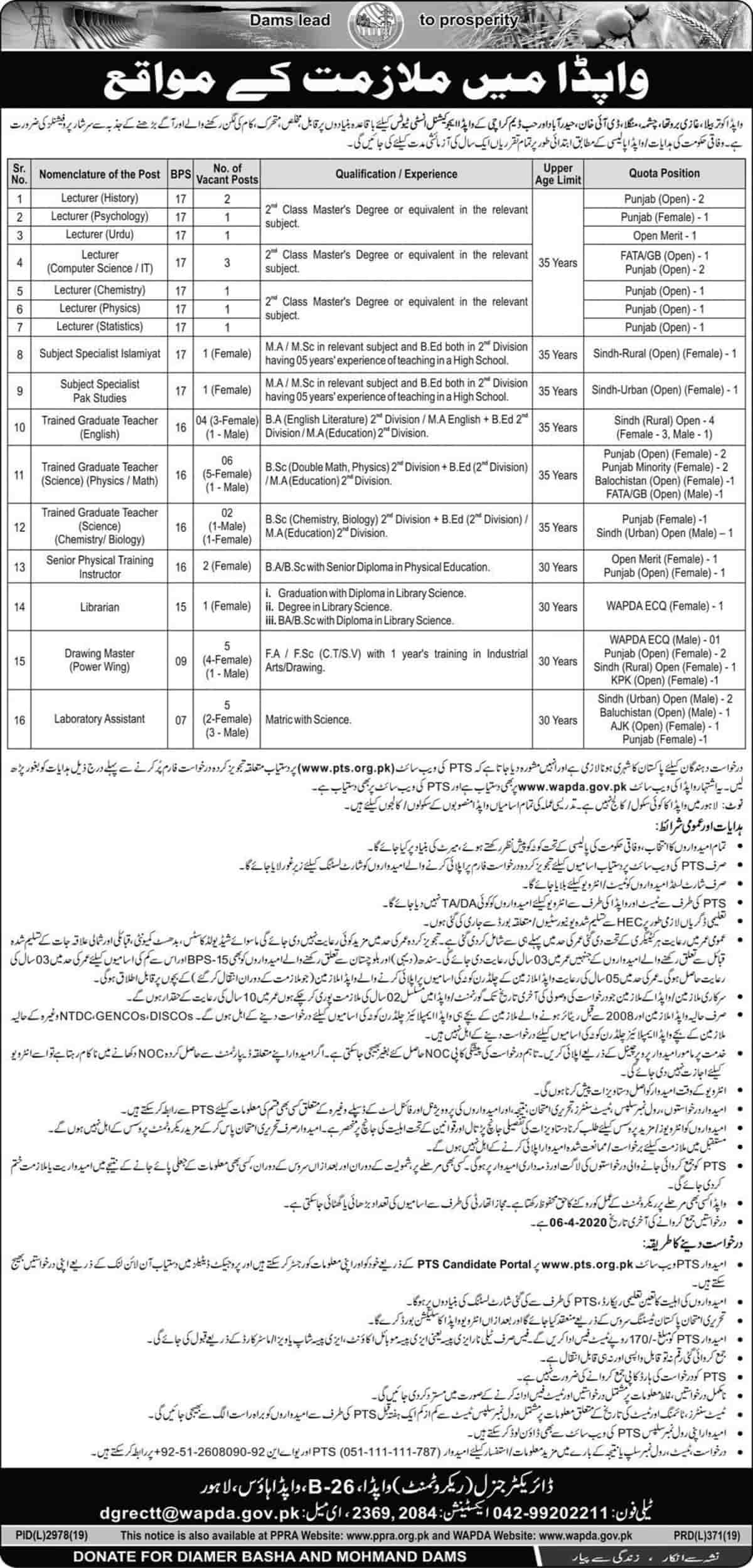 More Jobs
Punjab Public Service Commission PPSC Upcoming Jobs 2020 Latest
Ministry of Planning Commission Jobs 2020 Application Form www.pc.gov.pk
Oil and Gas Development Company OGDCL Jobs 2020 Application Form
NADRA Jobs 2020 Supervisor & Junior Executive Walk in Test / Interview
NAB Jobs March 2020 Application Form Latest Advertisement
Military Engineering Services MES Jobs March 2020 Application Form
PPSC Zilladar Jobs 2020 Punjab Irrigation Department Advertisement
Nayatel Jobs 2020 Associate Engineer Latest Advertisement
Sindh Public Service Commission SPSC Jobs Advertisement No 2 2020
PPSC Jobs 2020 Advertisement No 10 Apply Online Latest
PASSCO Jobs 2020 Apply Online PTS Latest Advertisement
Bahria Town Karachi Jobs March 2020 in SNG Plant Apply Online
PPSC Jobs March 2020 Advertisement No 9 Apply Online Latest
State Bank of Pakistan Jobs 2020 OG2 Officers Training Scheme SBOTS
Federal Board of Revenue FBR Jobs 2020 Appraising Valuation Officer
Pakistan Rangers Sindh Jobs 2020 Latest Advertisement
Join Pakistan Army Jobs 2020 as Officer 32 Technical Cadet Course TCC
For more Jobs visit Jobs.
Updates
If you want to receive Job Updates by Email then fill the form at the end of this Post or Press the bell Icon and Enable notifications.
WhatsApp Updates
To get Job Alerts via WhatsApp Click Here.
Follow Us
Follow us on Facebook, Twitter, Instagram, Pinterest, and Tumblr.
Get Job Updates via Email
Join 16,526 other subscribers