Civil Aviation Authority Jobs Advertisement Notice No 09/2018
Pakistan Civil Aviation Authority requires services of qualified individuals to fill the following posts:-
Sr. No 1
Aerodrome Fire Fighter (SG-05) (20 Positions)
(Merit-2, Punjab-07, Sindh (U)-2, Sindh (R)-3, Bal-2, GB-FATA-1, KPK-2 , AJK-1)
Pay Scale
16,965 – 1, 697 – 50,895
Qualification
FSc with at least 2nd Division or Equivalent
Age
Maximum 23 years
Height
Minimum 5 ft 4 inches
Sr. No 2
Specialist Vehicle Driver (SVD) (SG-05) (20 Positions Merit)
Pay Scale
16,965 – 1, 697 – 50,895
Qualification
Intermediate or Equivalent
Must have valid HTV License
Age
Maximum 25 years
Sr. No 3
E/M Technician (SG-05) (20 Positions)
(Merit-2, Punjab-07, Sindh (U)-2, Sindh (R)-3, Bal-2, GB-FATA-1, KPK-2 , AJK-1)
Pay Scale
16,965 – 1, 697 – 50,895
Qualification
FSc with at least 2nd Division or Equivalent
Age
Maximum 23 years
Sr. No 4
ATC Assistant (SG-05) (16 Positions)
(Merit-1, Punjab-06, Sindh (U)-1, Sindh (R)-1, Bal-3, GB-FATA-1, KPK-2 , AJK-1)
Pay Scale
16,965 – 1, 697 – 50,895
Qualification
FSc (Pre-Engineering) with at least 2nd Division
Age
Maximum 23 years
Sr. No 5
Electronics Assistant (SG-05) (16 Positions)
(Merit-1, Punjab-06, Sindh (U)-1, Sindh (R)-1, Bal-3, GB-FATA-1, KPK-2 , AJK-1)
Pay Scale
16,965 – 1, 697 – 50,895
Qualification
FSc (Pre-Engineering) with at least 2nd Division
Age Maximum
23 years
Application Procedure for Civil Aviation Authority Jobs:
(a) Interested candidates are required to fill & submit the Online Job Application Form available at https://www.caapakistan.com.pk/jobs/Careers.aspx within 15 days of publication of this advertisement.
(b) Candidates will be required to upload Detail CV with recent Photograph, Scanned Copies of CNIC, Domicile, all Educational Documents i.e. Degrees / Certificates, Transcript / Detailed Marks Certificate (DMC) and other Certificate(s) (if any) while applying for the job.
(c) In case a candidate does not upload the above documents with the online application form, his/her application will be rejected.
(d) All the interested candidates must read the Terms of Reference (TOR) mentioned in this advertisement before applying for the post.
Terms of Reference for Civil Aviation Authority Jobs
i) Age Relaxation will be allowed to the applicants as per rules available at CAA Website i.e. https://www.caapakistan.com.pk/jobs/Careers.aspx in Job Opportunities Section.
ii) Candidates not fulfilling the above requirements or submitting an incomplete application shall not be considered.
iii) Test / Interview will be conducted at Karachi, Lahore, Islamabad, Peshawar, and Quetta for which separate notices will be issued (depending on the number of candidates).
iv) The candidates to be called for the interviews have to produce original educational documents/certificates and other documents (if any) for necessary verification and while appearing for the interview.
v) No TA / DA is admissible for test/interview.
vi) The appointment will be subject to CAA's medical fitness standards.
vii) Selected candidates will be required to serve all over Pakistan as per requirement of CAA.
viii) Candidates possessing a higher degree as specified against each post are not encouraged to apply.
ix) Selected candidates may undergo basic training at Civil Aviation Training Institute, Hyderabad and during training, they will get fixed stipend. Their appointment will be subject to successful completion of training. Selected candidates shall also be required to execute a standard Surety Bond for a sum of Rs.500,000/- (Rupees Five Hundred Thousand) for serving CAA at least 10 years.
x) Government servants/employees of autonomous bodies/corporations will be required to submit NOC from current employer/organization.
xi) Wrong information and any attempt to influence the selection process will be considered as a definite disqualification for current as well as future recruitment in CAA, even if the candidate is otherwise qualified / eligible.
xii) In case, any degrees/certificates or any other document provided by the applicants is found incorrect/ fake/bogus at any stage before or after submitting the application, the services of selected candidate (s) will be terminated immediately, will be blacklisted in future and be void ab initio.
Last Date to Apply for Civil Aviation Authority Jobs 05-November-2018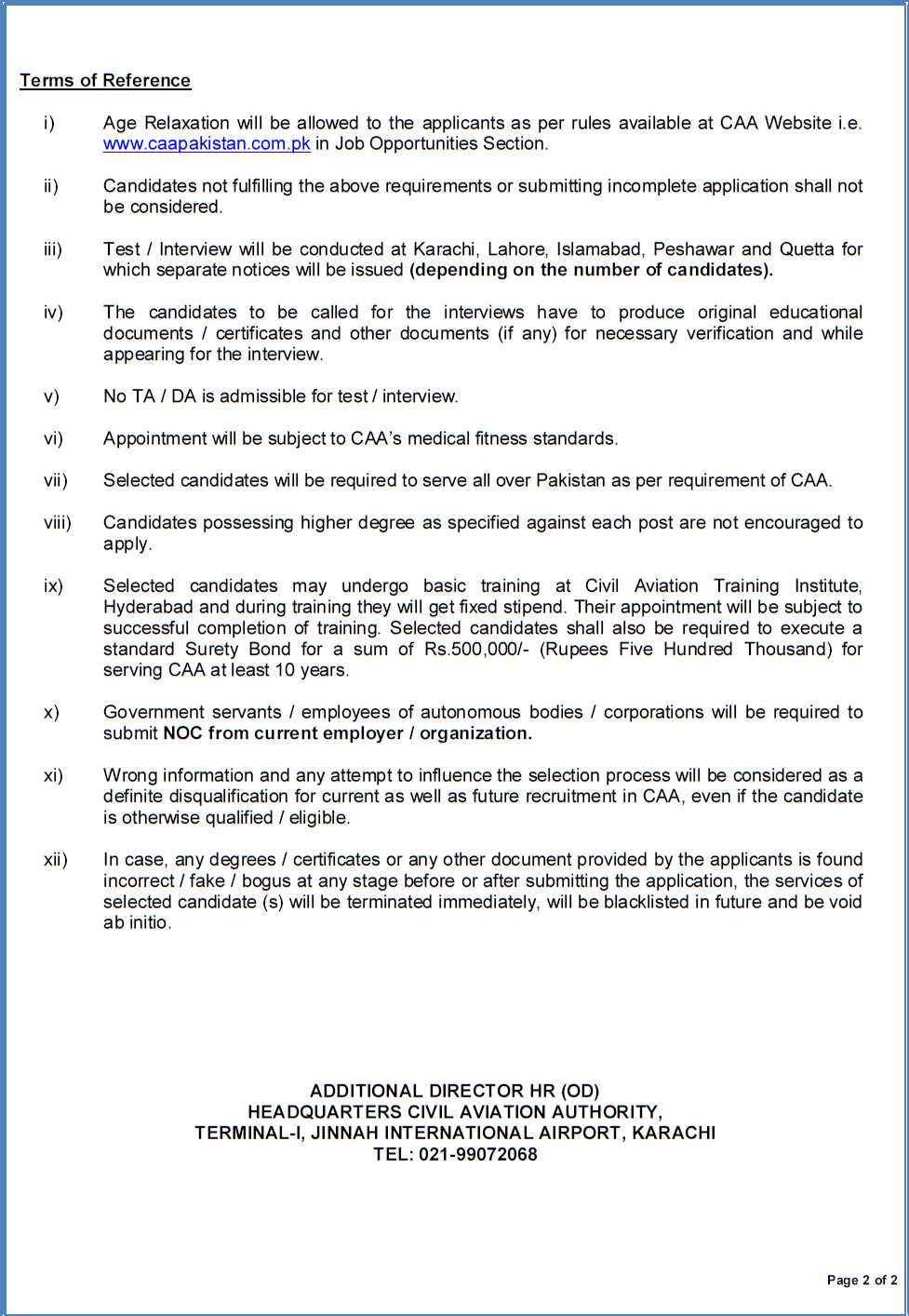 Apply Online
To Apply for Suparco Jobs Click here
Follow Filectory on Facebook, Twitter, Google Plus and Tumblr